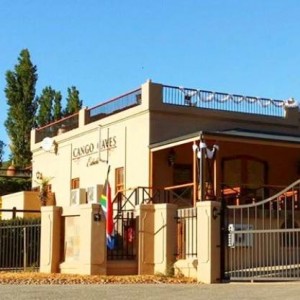 In the foothills of the Swartberg Mountains, barely a kilometer from the world-renowned Cango Caves, lies Cango Caves Estate.
The Estate is located on Grootkraal Farm and is the last establishment along the R328 before reaching the magnificent Cango Caves, to which visitors have  been drawn since its discovery in 1780 on the farm De Combuys aan de Cango (Kitchen of the Cango).
Cango Caves Estate offers a unique facility from where the Cango Caves and surrounding mountains can be explored.
The modern facility offers a top of the range selection of the world's best coffees, as well as local cheeses and wine to be enjoyed inside the air-conditioned luxury interior, or on the rooftop with its breathtaking view on the majestic Swartberg Mountains.